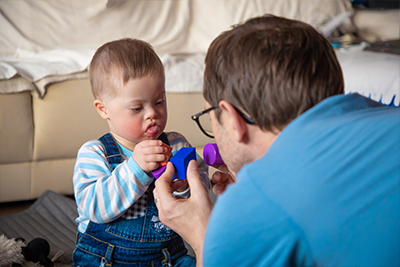 FIPP has a full team of early intervention providers available to support your child. Our team includes professionals in:
Occupational Therapy
Physical Therapy
Speech-Language Pathology
Education
Special Education
Nursing
Nutrition
Our team can work with your child's pediatrician to track development in addition to helping your child meet your goals. We also offer developmental evaluations to help you know whether your child needs services. Our areas of expertise include, but are not limited to:
Cerebral Palsy
Down Syndrome
Spina Bifida
Muscular Dystrophy
Torticollis
Plagiocephaly
Hypotonia
Delayed walking
Clubfoot
Autism Spectrum Disorder (ASD)
Fetal Alcohol Spectrum Disorders (FASD)
Neonatal Abstinence Syndrome (NAS)
Delayed talking
Failure to thrive
Apraxia
Articulation
Auditory processing
AAC (Augmentative and Alternative Communication)
Developmental delay
Fluency /stuttering
Mixed receptive/expressive language disorder
Feeding difficulties
Phonological delay
Working with children who are medically fragile
Assistive technology and mobility devices
For children suspected to have autism, FIPP's FAST team offers testing in your home and works with your child's pediatrician to provide a diagnosis.