Certification training is available at the link below:
https://fippcase.learnpointlms.com/catalog/course.asp?id=3305
The Fidelity-in-Practice–Early Intervention (FIP-EI)is a resource for early childhood intervention (ECI) administrators, supervisors, and practitioners. The FIP-EI contains a set of checklists for evaluating cross-disciplinary practices unique to the parent or caregiver capacity-building focus of ECI (natural learning environment practice, resource-based practices, and coaching practices).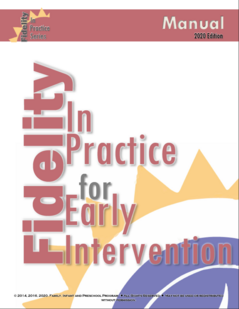 The FIP-EI Manual contains resources to help administrators implement the observation checklists in an evidence-based manner. The FIP-EI Manual includes an orientation step-up guide for determining the recommended frequency of observations based on practitioner confidence and competence, instructions for facilitating a pre-observation joint planning conference, helpful hints for using the FIP-EI during a live or video recorded observation, support for facilitating post-observation reflections with space to document a continuous improvement plan, and assistance with determining the presence or absence of each checklist indicator.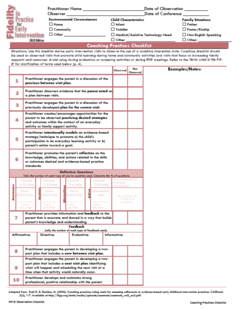 The FIP-EI Checklists include clearly written indicators that describe the characteristics of practices associated through research with positive developmental outcomes for children and capacity-building outcomes for families. The checklists are intended to aid practitioners in understanding and operationalizing research-based and recommended practices and to help administrators monitor and support the use of the practices.
To request individual or group certification training on the use of the FIP-EI, contact Sarah Sexton at the Family, Infant and Preschool Program or call (828) 608-6707.